About US:
The Air Accidents Investigation Institute (AAII) has been established pursuant to § 55a Art.(1) of the Civil Aviation Act as functionally independent authority within the Department for Transport on 1st January 2003.
The Director:
Ing Pavel Štrůbl
Office address:
Beranových 130, Prague, ZIP Code 19900
The Czech Republic
Phone: +420 266199231
Fax: +420 266199234
E-mail: info@uzpln.cz
Organizational outline:
AAII fulfils the tasks set by legislation by fifteen employees at job positions. There are 3 division of inspectors made up of operations inspectors, engineering inspectors and inspectors - analysts.
 How AAII works:
Primarily, AAII's sphere of action is investigation of civil aircraft accidents and serious incidents within the Czech Republic or outside the territory of any state according to the international standards and recommended practices set out in Annex 13 to the Chicago Convention. The AAII also provides assistance and expertise to international air accident investigations and organisations. The purpose is to improve aviation safety by determining the circumstances and causes of air accidents and serious incidents, and promoting action to prevent reoccurrence. Activities entrusted to the AAII has been extended by designation as the competent authority to independently collect, evaluate, process, analyse and store details of occurrences in in national database in accordance with Regulation (EU) No 376/2014. The Director of AAII reports directly to the Secretary of State for Transport on air safety matters.
Inspector's involvement starts after the AAII has been informed that something has happened. This can be an investigation anywhere in the Czech Republic or to assist worldwide. At a high state of readiness to deploy at least one of inspectors is available 24/7, 365 days per year. At the beginning usually two inspectors are assigned to deploy to the scene of accident and serious incident wherever the aircraft might be. It can be anything from a micro-light, to a helicopter or even several hundred tonnes of airliner. Time is of the essence to get to the site and start evidence collection.
The obligations of inspectors include, in particular:
conducting investigations to determine the causes of accidents and serious incidents
contributing to the timely publication of reports
submitting draft safety recommendations that are effective in reducing risk within the civil aviation
preparing and presenting statements and evidence, sharing knowledge and enhancing international standards of accident and incident investigation.
Each year, we receive 800-1000 notifications of safety-related occurrences and deficiencies. In order to allow inspectors to focus on the most serious accidents and incidents, the AAII may, pursuant to § 55c Art.(1) of the Civil Aviation Act, delegate the task of conducting an investigation into non-fatal accident or incident to a legal person capable of ensuring proper performance of such activities by professionally qualified natural persons.
Every occurrence is unique. Inspectors may be dealing with a light aircraft accident on remote terrain, or it could be a serious incident involving an airliner at a major airport. With of several bodies, e.g. firefighters, police, medical rescue service and other bodies of Integrated Rescue System present, it is a case of prioritising and using people skills to manage the site, and be efficient in work.
The long-term rental of hangar at Praha Kbely allows storage for a detailed examination of wreckage of aircraft with MTOM of 2 250 kg. As for technical sphere, AAII cooperates especially with specialized sites of VZLÚ a.s., GE Aviation Czech a.s, Institute of Criminology of the Czech Police and the Forensic Medicine Institute of the Central Military Hospital and with others, e.g. aircraft and engine manufacturers and service departments.
Most final reports are published within 12 months of an accident or serious incident occurring. Investigations involving some fatal accidents are more complex and reports can take longer to publish. All of our reports are published on our website www.uzpln.cz.
 Organisation structure: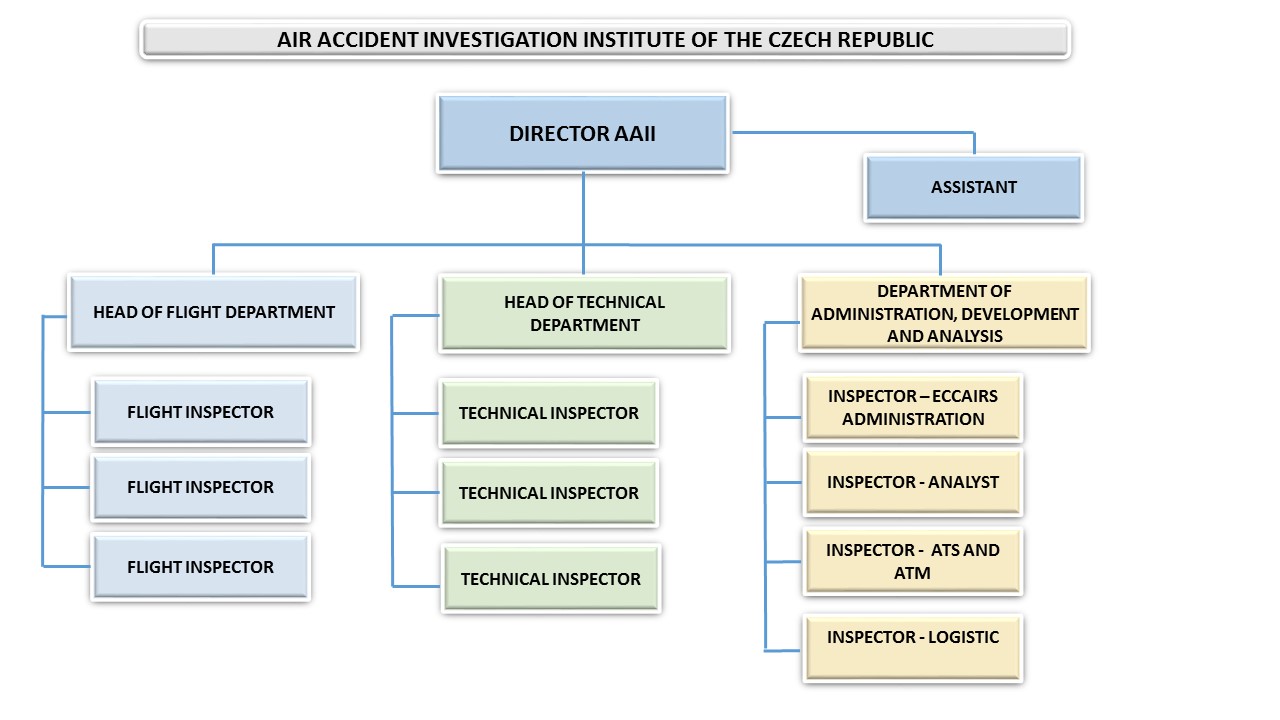 Documents: